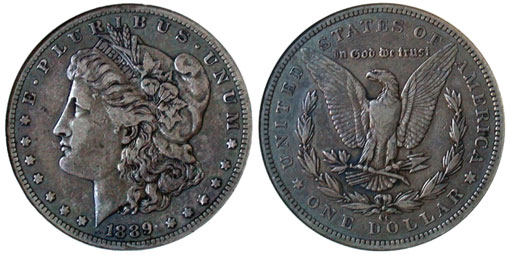 The 1889-CC Morgan Dollar is one of the key dates of the Morgan Dollar series. Examples are scarce and in demand in all grades, with gem pieces extremely rare.
During the early 1960s, large quantities of Morgan silver dollars were discovered in treasury vaults. A very large number of pieces minted at the Carson City Mint were included, altering many rarity ratings of the series. Some issues, however, were not found within the hoard and remained rare. The 1889-CC, with a total mintage of 350,000, is one of these issues. Some sources state that only 25,000 to 75,000 pieces were eventually released, with the remaining number melted soon after their mintage.
Incredibly, the finest known 1889-CC Morgan Dollar is an amazing piece graded by PCGS as MS-68, which sold for over half a million dollars recently.


1889-CC Morgan Dollar Mintage and Specifications
Mintage: 350,000
Mint mark: CC (Carson City)
Composition: 90% silver, 10% copper
Weight: 26.73 grams
Diameter: 38.1 mm