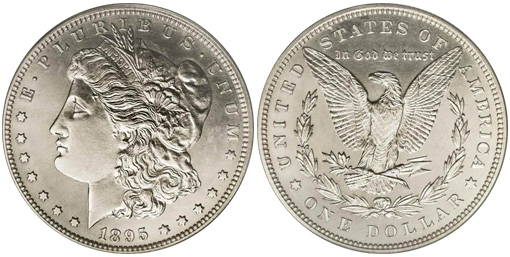 There are no circulation strike 1895 Morgan Dollars from the Philadelphia Mint known to exist. However, there were 880 proof coins produced for the year. This was not a particularly low mintage for a proof coin, but the lack of any circulation strikes creates high demand and makes the 1895 Proof Morgan Dollar a prized rarity.
Mint records do indicate that a total of 12,000 Morgan Dollars were struck at the Philadelphia Mint in 1895. Countless theories have been written about it, but the general consensus is that they were presumably all melted in one of the great melts. These occurred after the so-called Pitmann act was signed into law in 1918, calling for the melting of 270 million silver dollars in storage. It has also been speculated that it was an accounting error and the pieces were never struck.
Whatever the reality is, the only 1895 Morgan Dollars are from the 880 Proofs struck for collectors. All are greatly in demand, and valued much higher due to the fact that it has the lowest mintage for any Morgan dollar. Pieces are known in all Proof grades up to 69, including Cameo and Deep Cameo pieces. Some circulated Proofs exist as well.
In December 2010, an example graded NGC Proof 68 Ultra Cameo sold at auction for a stunning $121,643.55.


1895 Morgan Dollar Mintage and Specifications
Mintage: 880 (proof only)
Mint mark: none (Philadelphia)
Composition: 90% silver, 10% copper
Weight: 26.73 grams
Diameter: 38.1 mm