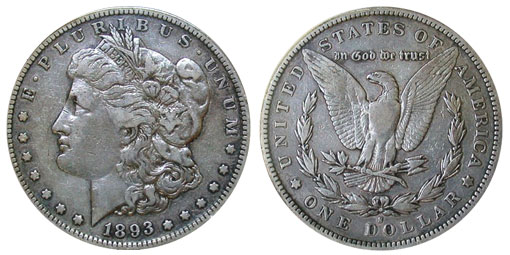 The 1893-S Morgan Dollar is recognized as the absolute key date of the series and is demand at all grade levels. The coin has the lowest mintage for a circulation strike of the series with just 100,000 minted. Unlike many other dates of the series, no hoards have ever appeared on the market, and it seems highly unlikely that any ever will.
Most examples will be encountered in circulated condition, with a high concentration in VF. A very limited supply of mint state pieces are available. Because many fakes exist, it is highly recommended that collectors should only purchase examples of the coin that have been authenticated by one of the leading third party coin grading services.
The finest known 1893-S Morgan Silver Dollar is a piece graded by PCGS as MS67, which sold by private-treaty for over a million dollars recently.


1893-S Morgan Dollar Mintage and Specifications
Mintage: 100,000
Mint mark: S (San Francisco)
Composition: 90% silver, 10% copper
Weight: 26.73 grams
Diameter: 38.1 mm