Even though the 1894 Morgan Dollar (Buy on eBay) has the second lowest mintage of the series with just 110,000 coins, it does not carry the stature of the key date 1893-S Morgan Dollar, which had a mintage of just 10,000 less. Nonetheless, the issue does remain elusive in all grades from circulated to mint state.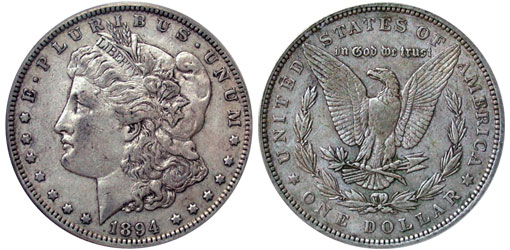 Price levels for this issue range from about $1,000 for coins graded Fine to around $40,000 for premium quality pieces graded MS65 by one of the major grading services PCGS or NGC. The highest graded mint state examples are four pieces graded MS66 by PCGS. Most recently in 2009, one of these examples sold for $74,750 at auction.
The Philadelphia Mint produced 972 proof coins this year. Because of the cost and scarcity of an uncirculated mint state 1894 Morgan Dollar, a quality proof example is a viable alternative for some collections.
1894 Morgan Dollar Mintage and Specifications
Mintage: 110,000 (circulation), 972 (proof)
Mint Mark: none (Philadelphia)
Composition: 90% silver, 10% copper
Weight: 26.73 grams
Diameter: 38.1 mm



< 1893-S Morgan Dollar | 1894-O Morgan Dollar >