The 1893-O Morgan Dollar (Buy on eBay) has the lowest mintage for any New Orleans Mint issue of the series at just 300,000 pieces. This also ranks as the fifth lowest mintage for the series overall.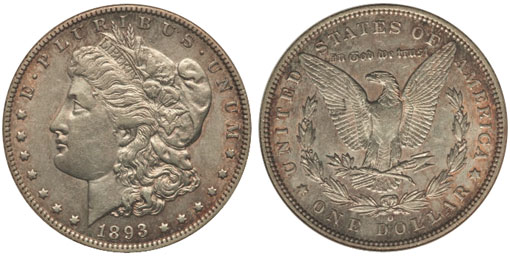 The entire mintage was delivered in January of 1893, with some pieces released for circulation and others which lingered in treasury hoards. This provides for a supply of well worn examples as well as some uncirculated pieces. Most will be found weakly struck, a problem which is apparent for many other New Orleans issues.
A well circulated example of the 1893-O can be acquired for a few hundred dollars, with pricing surpassing the $1,000 mark in higher AU grades. At the near gem grade of MS64, prices exceed $10,000 and can stretch as high as $20,000 for premium quality examples.
Fewer than a dozen pieces have graded MS65 by PCGS or NGC. One of these pieces graded by NGC sold for $115,000 at auction in July 2007. An astounding piece graded PCGS MS65DMPL from the Jack Lee Collection and counted amongst the finest known sold for $258,750 in November 2005.
1893-O Morgan Dollar Mintage and Specifications
Mintage: 300,000
Mint Mark: O (New Orleans)
Composition: 90% silver, 10% copper
Weight: 26.73 grams
Diameter: 38.1 mm



< 1893-CC Morgan Dollar | 1893-S Morgan Dollar >