The 1878 Morgan Dollar, 8 Tail Feathers (Buy on eBay) represents the first coin in the series and holds a place of importance as the only issue that used this style of reverse. These coins were first struck on March 12, 1878 with an estimated mintage of about 749,500 pieces.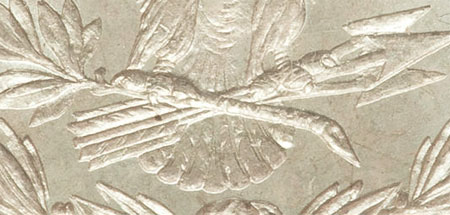 The reverse design is identified by the eight tail feathers of the eagle which appear between the arrows and olive branch. All coins will also have an eagle with a flat breast.
Despite the importance of the issue and somewhat low mintage, examples remain relatively available for collectors. Circulated examples are available for only a slight premium above common dates, although uncirculated grades carry stronger premiums.
The Philadelphia Mint also struck 500 examples of the 1878 Morgan Dollar 8TF in proof format. As a single year example of the design with a small mintage, these proof coins carry a premium above other years.
1878 Morgan Dollar, 8 Tail Feathers Mintage and Specifications
Mintage: approximately 749,500 (circulation), approximately 500 (proof)
Mint Mark: none (Philadelphia)
Composition: 90% silver, 10% copper
Weight: 26.73 grams
Diameter: 38.1 mm



< 1878 Morgan Dollar 7TF | 1878-CC Morgan Dollar >