The 1885 Morgan Dollar (Buy on eBay) struck at Philadelphia attained the highest mintage for any single issue of the series to date at 17,787,000. As might be expected, the coins remain widely available across all grade levels. Even in gem condition, coins can be acquired for less than $200.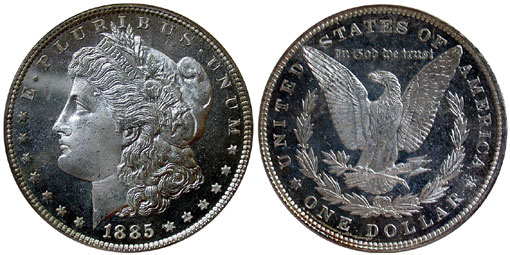 The quality of strike and luster is generally good for this issue, but with usually a wide number available for any given grade, collectors can cherry pick the most compelling example for their collection.
Proof examples were also struck at the Philadelphia Mint in small quantity. The total mintage was 930, which is within the typical range for proofs of the series.
1885 Morgan Dollar Mintage and Specifications
Mintage: 17,787,000 (circulation) 930 (proof)
Mint Mark: none (Philadelphia)
Composition: 90% silver, 10% copper
Weight: 26.73 grams
Diameter: 38.1 mm



< 1884-S Morgan Dollar | 1885-CC Morgan Dollar >