The 1879-O Morgan Dollar (Buy on eBay) was the first New Orleans minted coin for the series, which had debuted in the year prior. This issue is considered to be plentiful in uncirculated grades and more difficult to locate in mint state grades.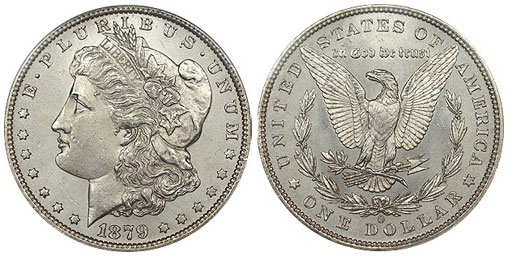 At one time, this issue was considered more of a rarity, along with several other noted New Orleans minted Morgan Dollars like the 1898-O Morgan Dollar, 1903-O Morgan Dollar, and 1904-O Morgan Dollar. Large quantities were eventually released by the Treasury in the early 1960's, causing values of these perceived rarities to plummet. The 1879-O Morgan Dollar still retains a significant premium for MS65 graded coins, which are few in number.
Examples graded MS65 by PCGS or NGC have sold in the $2,500 to $4,000 range depending on quality. The finest known pieces graded MS66 have sometimes sold for $20,000 or more.
1879-O Morgan Dollar Mintage and Specifications
Mintage: 2,887,000
Mint mark: O (New Orleans)
Composition: 90% silver, 10% copper
Weight: 26.73 grams
Diameter: 38.1 mm



< 1879-CC Morgan Dollar | 1879-S Morgan Dollar >