The 1891-CC Morgan Dollar (Buy on eBay) had an original mintage of 1,618,000, which was higher than most other Carson City Mint issues. However, due to a lower representation with the GSA Hoard, this issue is somewhat scarce.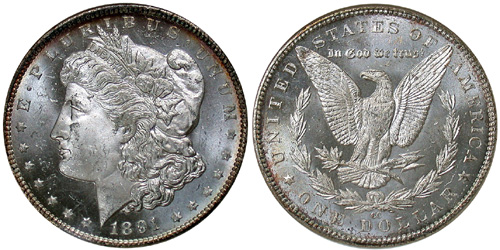 The inventory of the General Services Administration holdings revealed a total of 5,687 examples of this coin, which represented less than one percent of the original mintage. Other Carson City issues such as the 1883-CC Morgan Dollar, 1884-CC Morgan Dollar, and 1885-CC Morgan Dollar were represented within the holdings by more than half of the original mintage, resulting in more widespread availability.
Although the 1891-CC is available, the striking quality can vary from coin to coin. Collectors should take care in locating a sharply struck example with a minimum of distracting contact marks.
1891-CC Morgan Dollar Mintage and Specifications
Mintage: 1,618,000
Mint Mark: CC (Carson City)
Composition: 90% silver, 10% copper
Weight: 26.73 grams
Diameter: 38.1 mm



< 1891 Morgan Dollar | 1891-O Morgan Dollar >