The 1895-S Morgan Dollar (Buy on eBay) is one of the lower mintage issues of the series with just 400,000 pieces struck at the San Francisco Mint. The low mintage results in a premium across all grade levels from circulated to gem.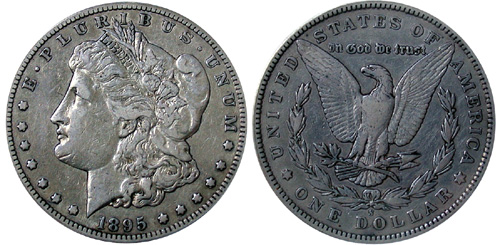 This issue remained elusive for much of its history, with a few bags known to have been paid out in 1942, although many of these would end up in the channels of circulation or casinos. A quantity of about 1,000 pieces was within the Redfield Hoard, however these were heavily bag marked or had abrasions from counting machines.
It is estimated that about 50 to 100 pieces have survived in gem grades or higher, and the population reports of the major grading services attest to this. There are some examples with Proof-Like or Deep Mirror Proof-Like surfaces, although these are concentrated at grades below the gem level.
The finest known 1895-S Morgan Dollar graded PCGS MS67DMPL from the Jack Lee Collection realized a price of $207,000 when it sold at auction in November 2005. On the other end of the spectrum, well circulated examples graded VF-20 are valued around $900.
1895-S Morgan Dollar Mintage and Specifications
Mintage: 400,000
Mint Mark: S (San Francisco)
Composition: 90% silver, 10% copper
Weight: 26.73 grams
Diameter: 38.1 mm



< 1895-O Morgan Dollar | 1896 Morgan Dollar >