The 1884-O Morgan Dollar (Buy on eBay) is counted amongst one of the most widely available issues of the series. Collectors can acquire examples in grades ranging from circulated to gem at affordable price levels. As typical, coins with Proof-Like or Deep Mirror Proof-Like surfaces will command a premium.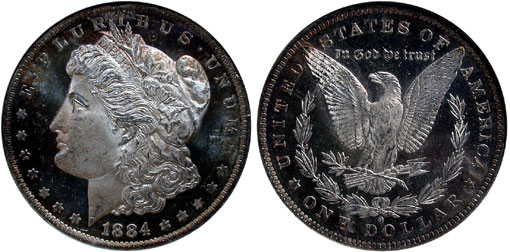 The total mintage for this issue reached 9,730,000, which was the highest production for the New Orleans Mint to date. A portion of these coins were released for circulation around the time of issue, some pieces in storage were melted, but still others remained in Treasury vaults and were released in later years to provide an ample supply of uncirculated examples for collectors.
Striking quality and luster can vary for this issue. Since there are many coins available for any given grade level, care should be used in selecting the piece with the best eye appeal.
1884-O Morgan Dollar Mintage and Specifications
Mintage: 9,730,000
Mint Mark: O (New Orleans)
Composition: 90% silver, 10% copper
Weight: 26.73 grams
Diameter: 38.1 mm



< 1884-CC Morgan Dollar | 1884-S Morgan Dollar >