Once considered a rare date, the 1897 Morgan Dollar (Buy on eBay) was released in large numbers during the 1950's and 1960's. The mintage of 2,822,000 coins were not often seen during the year of release and even the decades following. The eventual release of the coins provided an ample supply of higher mint state examples for collectors.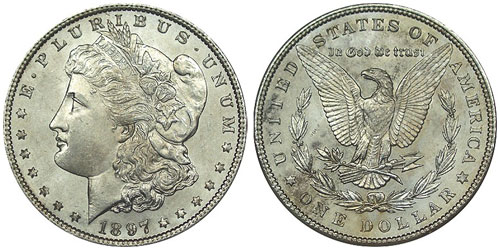 Similar situations have occurred for numerous other issues of the Morgan Dollar series. In fact, some issues which were once considered to be rarities became incredibly common with the dispersal of hoards. It is also the case that many issues gain their rarity due to the widespread circulation in the initial year of mintage, which left few examples surviving for future collectors.
The Philadelphia Mint produced the 1897 Proof Morgan Dollar in a typical quantity for the era. The mintage for the proof coins was 731 with many exhibiting deep cameo contrast.
1897 Morgan Dollar Mintage and Specifications
Mintage: 2,822,000 (circulation), 731 (proof)
Mint mark: none (Philadelphia)
Composition: 90% silver, 10% copper
Weight: 26.73 grams
Diameter: 38.1 mm



< 1896-S Morgan Dollar | 1897-O Morgan Dollar >