The 1884-CC Morgan Dollar (Buy on eBay) was one of several Carson City minted silver dollars that were preserved in government vaults for decades before being sold by the General Services Administration (GSA) in the 1970's. This issue was extremely abundant within the so-called GSA Morgan Dollar Hoard.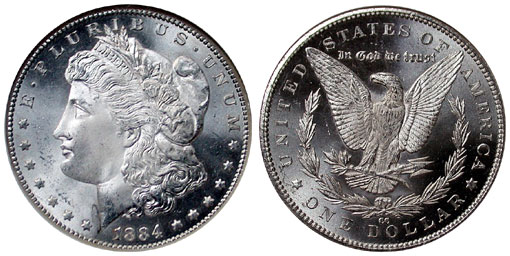 A listing of the total inventory of the hoard shows that there were 962,638 of the 1884-CC Morgan Dollars. This accounted for 84.7% of the total original mintage of 1,136,000 pieces. Out of all of the coins included in the hoard, the 1884-CC had the highest number and highest proportion of the original mintage.
The coins are often encountered in the original plastic GSA holders and boxes since most coins come from this source. Uncirculated examples are plentiful, with Proof-Like and Deep Mirror Proof-Like coins available.
1884-CC Morgan Dollar Mintage and Specifications
Mintage: 1,136,000
Mint Mark: CC (Carson City)
Composition: 90% silver, 10% copper
Weight: 26.73 grams
Diameter: 38.1 mm



< 1884 Morgan Dollar | 1884-O Morgan Dollar >