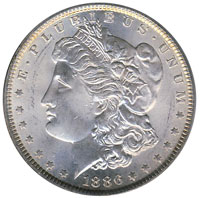 Although mintages are usually used as an indicator of rarity, for the Morgan Dollar series, mintage figures can sometimes be misleading. The number of surviving Morgan Dollars for certain issues has been impacted by melting, which can make higher mintage dates more scarce, and the dispersal of hoards, which can make low mintage dates more common.
The key date for the series is the 1893-S Morgan Dollar, which had a mintage of 100,000 coins. This represents the lowest mintage for a circulation strike coin and no significant hoards ever surfaced for this issue. As a result the issue enjoys a significant premium at all grade levels. A secondary key date is the 1889-CC Morgan Dollar, which had a mintage of 350,000. Unlike other low mintage Carson City issues, virtually none of this date was dispersed in the GSA sales.
The highest mintage Morgan Dollars came in 1921, when coins were produced in large quantities at the Philadelphia, Denver, and San Francisco Mints. The highest total occurred at the Philadelphia Mint with 44,690,000 coins produced. Across all three facilities there were 86,730,000 Morgan Silver Dollars produced.
The table below presents the mintage figures for each date and mint mark combination for the Morgan Dollar series. Only circulation strike coins are included. For Morgan Silver Dollar populations, consult the latest NGC Census Data.
| Issue | Mintage |
| --- | --- |
| 1878 8TF | 749,500 |
| 1878 7TF | 9,759,300 |
| 1878-CC | 2,212,000 |
| 1878-S | 9,774,000 |
| 1879 | 14,806,000 |
| 1879-CC | 756,000 |
| 1879-O | 2,887,000 |
| 1879-S | 9,110,000 |
| 1880 | 12,600,000 |
| 1880-CC | 591,000 |
| 1880-O | 5,305,000 |
| 1880-S | 8,900,000 |
| 1881 | 9,163,000 |
| 1881-CC | 296,000 |
| 1881-O | 5,708,000 |
| 1881-S | 12,760,000 |
| 1882 | 11,100,000 |
| 1882-CC | 1,133,000 |
| 1882-O | 6,090,000 |
| 1882-S | 9,250,000 |
| Issue | Mintage |
| --- | --- |
| 1883 | 12,290,000 |
| 1883-CC | 1,204,000 |
| 1883-O | 8,725,000 |
| 1883-S | 6,250,000 |
| 1884 | 14,070,000 |
| 1884-CC | 1,136,000 |
| 1884-O | 9,730,000 |
| 1884-S | 3,200,000 |
| 1885 | 17,787,000 |
| 1885-CC | 238,000 |
| 1885-O | 9,185,000 |
| 1885-S | 1,497,000 |
| 1886 | 19,963,000 |
| 1886-O | 10,710,000 |
| 1886-S | 750,000 |
| 1887 | 20,290,000 |
| 1887-O | 11,550,000 |
| 1887-S | 1,771,000 |
| 1888 | 19,183,000 |
| 1888-O | 12,150,000 |
| 1888-S | 657,000 |
| Issue | Mintage |
| --- | --- |
| 1889 | 21,726,000 |
| 1889-CC | 350,000 |
| 1889-O | 11,875,000 |
| 1889-S | 700,000 |
| 1890 | 16,802,000 |
| 1890-CC | 2,309,041 |
| 1890-O | 10,701,000 |
| 1890-S | 8,230,373 |
| 1891 | 8,693,556 |
| 1891-CC | 1,618,000 |
| 1891-O | 7,954,529 |
| 1891-S | 5,296,000 |
| 1892 | 1,036,000 |
| 1892-CC | 1,352,000 |
| 1892-O | 2,744,000 |
| 1892-S | 1,200,000 |
| 1893 | 378,000 |
| 1893-CC | 677,000 |
| 1893-O | 300,000 |
| 1893-S | 100,000 |
| 1894 | 110,000 |
| Issue | Mintage |
| --- | --- |
| 1894-O | 1,723,000 |
| 1894-S | 1,260,000 |
| 1895-O | 450,000 |
| 1895-S | 400,000 |
| 1896 | 9,976,000 |
| 1896-O | 4,900,000 |
| 1896-S | 5,000,000 |
| 1897 | 2,822,000 |
| 1897-O | 4,004,000 |
| 1897-S | 5,825,000 |
| 1898 | 5,884,000 |
| 1898-O | 4,440,000 |
| 1898-S | 4,102,000 |
| 1899 | 330,000 |
| 1899-O | 12,290,000 |
| 1899-S | 2,562,000 |
| 1900 | 8,830,000 |
| 1900-O | 12,590,000 |
| 1900-S | 3,540,000 |