The 1880-CC Morgan Dollar (Buy on eBay) had an original mintage of 591,000 pieces, but was fairly well represented within the GSA Morgan Dollar Hoard which contained 131,529 pieces. With these coins sold through auction in the 1970's, a plentiful supply of this date exists for collectors.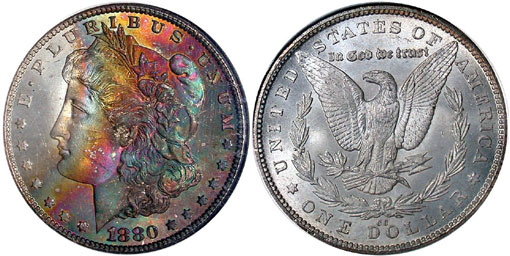 Numerous die varieties exist for this date, with four of them being the most widely cited. Some coins are found with the so-called Reverse of 1878, which is identified by the parallel top arrow feathers and flat eagle's breast. Others are found with the Reverse of 1879, which is identified by the slated top arrow feather. Each of these reverses may also be found with the obverses over-dated and remnants of the underlying digits visible.
The Red Book lists the "80 over 79" and "8 over 7" for the Reverse of 1878 . For the Reverse of 1879, the listed varieties are the ""8/High 7" and "8/Low 7".
The 1880-CC Morgan Dollars with the Reverse of 1878 are the scarcer varieties, although the supply is plentiful enough to keep premiums modest above the more plentiful variety.
1880-CC Morgan Dollar Mintage and Specifications
Mintage: 591,000
Mint Mark: CC (Carson City)
Composition: 90% silver, 10% copper
Weight: 26.73 grams
Diameter: 38.1 mm



< 1880 Morgan Dollar | 1880-O Morgan Dollar >