Even though the 1899 Morgan Dollar (Buy on eBay) has a reported mintage of just 330,000 pieces, the coins are readily available in Uncirculated grades. Apparently very few of the coins were paid out into circulation at the time of production, but held back in vaults until the 1950's when many bags of uncirculated coins were paid out. This provided a large supply of uncirculated coins for today's collectors.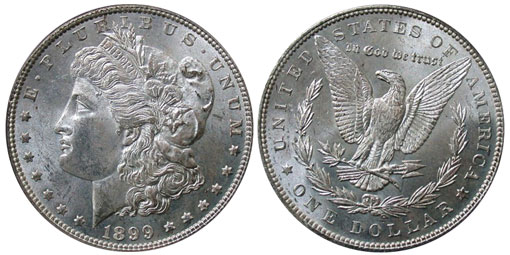 That said, the coins do enjoy a premium above the more common date Morgan Dollars. Examples graded MS65 typically sell for prices in the $700 to $800 range.
The Philadelphia Mint also struck 1899 Proof Morgan Dollars in a quantity of 846 coins.
1899 Morgan Dollar Mintage and Specifications
Mintage: 330,000 (circulation), 846 (proof)
Mint Mark: none (Philadelphia)
Composition: 90% silver, 10% copper
Weight: 26.73 grams
Diameter: 38.1 mm



< 1898-S Morgan Dollar | 1899-O Morgan Dollar >