The 1881-S Morgan Dollar (Buy on eBay) is known for being the most available coin of the series in mint state grades. Not only did the issue have a relatively high mintage of 12,760,000 coins, it is estimated that almost half of this amount survived in uncirculated condition.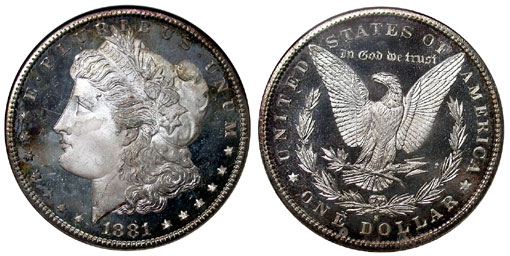 The two main coin grading companies PCGS and NGC have certified more than 100,000 of the 1881-S Morgan Dollars in grades MS65 and higher. The incredible abundance of this issue in gem condition has made it an ideal proxy for the market for generic mint state Morgan Dollars and an ideal coin for type sets.
An abundance of examples also survive in higher mint state grades, as well as with Proof-Like or Deep Mirror Proof-Like surfaces. PCGS has incredibly graded examples of the coin as MS69. At PCGS and NGC combined, nearly 15,000 pieces have been graded as Proof-Like and more than 2,000 as Deep Mirror Proof-Like.
1881-S Morgan Dollar Mintage and Specifications
Mintage: 12,760,000
Mint Mark: S (San Francisco)
Composition: 90% silver, 10% copper
Weight: 26.73 grams
Diameter: 38.1 mm



< 1881-O Morgan Dollar | 1882 Morgan Dollar >