Despite the extremely low mintage of only 296,000 coins, the 1881-CC Morgan Dollar (Buy on eBay) is relatively easy to locate and affordable to purchase in uncirculated grades.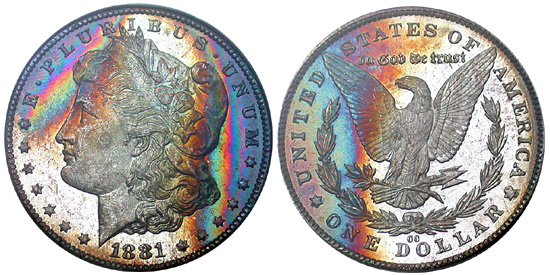 Within the overall series, this issue ranks as the fourth lowest mintage, however nearly half of this amount remained safely tucked within Treasury vaults. A quantity of 147,485, or 49.82% of the entire mintage, was included in the GSA Morgan Dollar Hoard, which were distributed to collectors via the auction process in the 1970's. This accounts for the abundant availability for today's collectors.
It's interesting to note that this issue is a challenge to locate in well circulated grades. With so much of the mintage tucked away, the very few 1881-CC Morgan Dollars actually circulated. As a result, there are unusually high values for circulated examples that may be encountered.
1881-CC Morgan Dollar Mintage and Specifications
Mintage: 296,000
Mint Mark: CC (Carson City)
Composition: 90% silver, 10% copper
Weight: 26.73 grams
Diameter: 38.1 mm



< 1881 Morgan Dollar | 1881-O Morgan Dollar >