The 1901-S Morgan Dollar (Buy on eBay) had a mintage of 2,284,000 pieces. Despite somewhat similar production levels, this issue is scarcer than the San Fransisco Mint silver dollars of the past several years.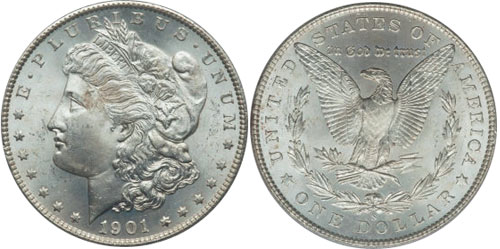 The major grading companies PCGS and NGC have certified around 300 pieces as MS65, which can usually be acquired for just over $3,000. At higher grades, the issue becomes much more elusive with just a few dozen pieces graded MS66, and a lone example graded MS67 by PCGS.
For this issue, striking quality varies, so collectors should carefully select for quality within the given grade. As is the case with most San Francisco Mint issues, luster is usually appealing.
1901-S Morgan Dollar Mintage and Specifications
Mintage: 2,284,000
Mint Mark: S (San Francisco)
Composition: 90% silver, 10% copper
Weight: 26.73 grams
Diameter: 38.1 mm



< 1901-O Morgan Dollar | 1902 Morgan Dollar >