Similar to the previous year's San Francisco issue, the 1882-S Morgan Dollar (Buy on eBay) is known for being widely available for present day collectors. From the original mintage of 9,250,000 pieces, it seems that a significant quantity remained in Treasury vaults until decades later. This preserved a large number of uncirculated examples for collectors.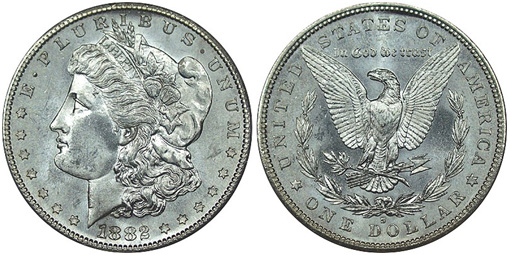 The major grading services PCGS and NGC have graded more than 70,000 examples of the coins in MS65 or finer. The ready supply leads to comparatively affordable prices. Even at the lofty grade of MS67, coins can still be acquired for prices of less than $800. A fair number of coins have even been graded MS68, although these obviously drive higher premiums.
This is one of a number of issues that are ideal candidates for collectors seeking an attractive, high grade example for type set purposes.
1882-S Morgan Dollar Mintage and Specifications
Mintage: 9,250,000
Mint Mark: S (San Francisco)
Composition: 90% silver, 10% copper
Weight: 26.73 grams
Diameter: 38.1 mm



< 1882-O Morgan Dollar | 1883 Morgan Dollar >