The production quality was generally high for the 1890-S Morgan Dollar (Buy on eBay). Similar to some other high mintage San Francisco Mint issues, the typical coin is found sharply struck with excellent luster and eye appeal.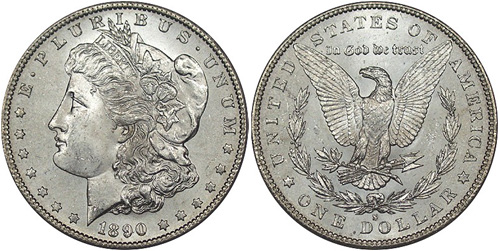 Even though some of the original mintage for this coin was likely melted under the requirements of the Pittman Act, more than enough examples remain from the original 8,230,373 mintage to allow collectors to find acquire mint state examples at a modest price. Although some examples were distributed to circulation at the time of mintage, bag quantities remained in storage and were released in later generations.
Top graded examples with Proof-Like or Deep Mirror Proof-Like surfaces will command a larger premium.
1890-S Morgan Dollar Mintage and Specifications
Mintage: 8,230,373
Mint Mark: S (San Francisco)
Composition: 90% silver, 10% copper
Weight: 26.73 grams
Diameter: 38.1 mm



< 1890-O Morgan Dollar | 1891 Morgan Dollar >