The trend of declining production at the Philadelphia Mint continued with the 1893 Morgan Dollar (Buy on eBay). With only 378,000 coins produced, this ranks amongst ten lowest mintages for the entire series. Accordingly, the coin carries a premium across all grade levels. Coins graded MS65 can be a challenge to acquire with the highest graded coins a scant few grading MS66.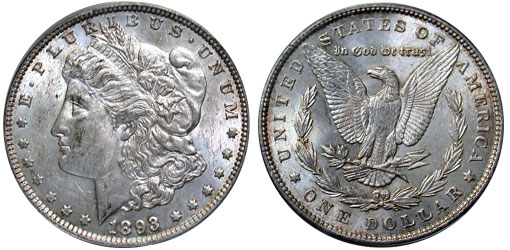 The number of proof coins produced dropped back to typical levels. The Philadelphia Mint produced 792 of the 1893 Proof Morgan Dollars.
For this year, circulating silver dollar mintages were quite low across all mint facilities with 677,000 produced at Carson City, 300,000 produced at New Orleans, and 100,000 produced for the famous key date 1893-S Morgan Dollar.
1893 Morgan Dollar Mintage and Specifications
Mintage: 378,000 (circulation), 792 (proof)
Mint Mark: none (Philadelphia)
Composition: 90% silver, 10% copper
Weight: 26.73 grams
Diameter: 38.1 mm



< 1892-S Morgan Dollar | 1893-CC Morgan Dollar >