The 1900-O Morgan Dollar (Buy on eBay) was the highest mintage issue for this year of the series at the turn of the century. With production taking place at the New Orleans Mint, the total mintage reached 12,590,000 pieces. This individually as well as cumulative topped the production, which took place during the same year at the Philadelphia and San Francisco facilities.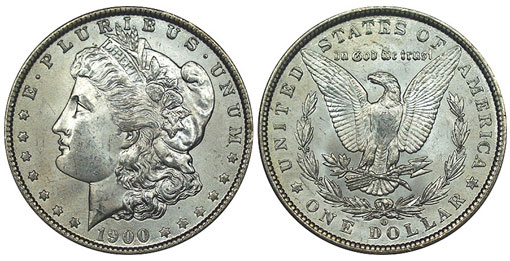 Due to the higher mintage and survival rate, this issue remains readily available across all grade levels, with even gem examples available for less than $200.
A notable variety is the 1900-O/CC Morgan Dollar. It is estimated that this over-mintmark represents about 10% of the overall mintage. These coins are in steady demand due to their listing in the Red Book.
1900-O Morgan Dollar Mintage and Specifications
Mintage: 12,590,000
Mint Mark: O (New Orleans)
Composition: 90% silver, 10% copper
Weight: 26.73 grams
Diameter: 38.1 mm



< 1900 Morgan Dollar | 1900-S Morgan Dollar >