The 1921 Morgan Dollar (Buy on eBay) was struck after a gap of eighteen years for the series. More coins were necessary as backing for silver certificates following the melting of hundreds of millions of silver dollars under the Pittman Act. During the year, more than 80 million Morgan Dollars were struck across three mint facilities.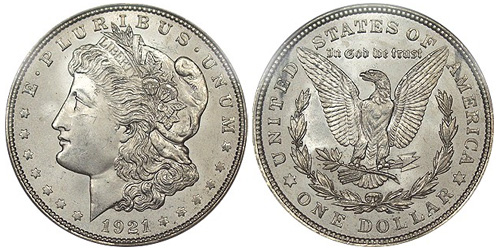 As the original hubs for the series had been destroyed, new models were created, which show notable differences to the earlier coins. The 1921 Morgan Dollars have a much shallower relief and most pieces lack details at the highest points. The Philadelphia Mint struck 44,690,000 circulation strike coins.
This would represent the final year of the series, replaced by the Peace Dollar, first struck in December 1921.
1921 Morgan Dollar Mintage and Specifications
Mintage: 44,690,000
Mint Mark: none (Philadelphia)
Composition: 90% silver, 10% copper
Weight: 26.73 grams
Diameter: 38.1 mm



< 1904-S Morgan Dollar | 1921-D Morgan Dollar >