The 1888 Morgan Silver Dollar (Buy on eBay) continues the string of high mintage, common issues from the Philadelphia Mint. The total mintage was 19,183,000, one of the highest for the series, leaving many examples for collectors to pursue across all grade levels.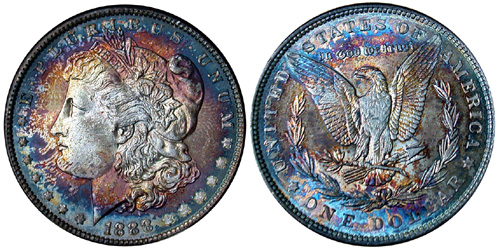 Although a common date, quality does vary greatly between individual coins. The striking quality varies as does luster. Careful selection of this issue can yield a premium example for around the same price as an average or below average piece.
Proof versions of the coin were also struck at Philadelphia. The mintage was 833 pieces.
1888 Morgan Dollar Mintage and Specifications
Mintage: 19,183,000 (circulation), 833 (proof)
Mint Mark: none (Philadelphia)
Composition: 90% silver, 10% copper
Weight: 26.73 grams
Diameter: 38.1 mm



< 1887-S Morgan Dollar | 1888-O Morgan Dollar >