The 1904 Morgan Dollar (Buy on eBay) would represent the last silver dollar issue for more than a decade. The stockpile of silver that the U.S. Mint had acquired under the Sherman Silver Purchase Act was finally depleted, and there was little need to strike additional Morgan Dollars since there were immense hoards in storage.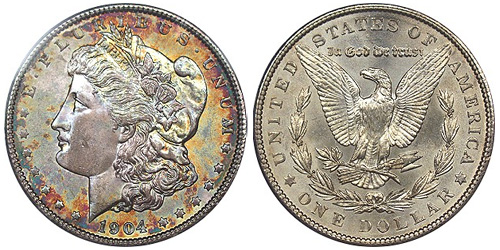 This issue of the series had somewhat poor striking characteristics and luster, especially compared to the previous year. As a result, nice quality 1904 Morgan Dollars can be difficult to encounter and attractive gem quality coins command a premium.
The Philadelphia Mint struck 650 proof silver dollars this year, representing one of the lower totals for the series.
1904 Morgan Dollar Mintage and Specifications
Mintage: 4,102,000
Mint Mark: S (San Francisco)
Composition: 90% silver, 10% copper
Weight: 26.73 grams
Diameter: 38.1 mm



< 1903-S Morgan Dollar | 1904-O Morgan Dollar >