The 1892 Morgan Dollar (Buy on eBay) struck at the Philadelphia Mint had a mintage of 1,036,000, representing a sharp drop from the prior year mintage from the same facility. For the following two years, the production levels at Philadelphia would continue to decline until finally the 1895 Morgan Dollar was minted only in proof.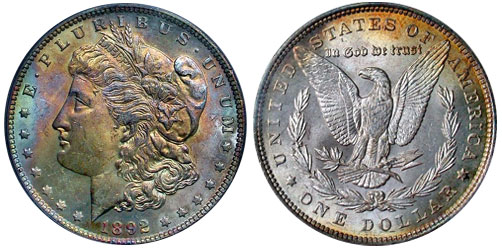 Gem graded 1892 Morgan Dollars are infrequent with the finest examples including just a few coins receiving the grade MS66 from the major grading services.
The Philadelphia Mint struck 1,245 proof silver dollars this year, nearly double the production of the prior year. The increased demand for proof coins can be attributed to the introduction of the new Barber designs for the dime, quarter, and half dollar. Collectors of the day likely desired a full set of proof coins for this year.
1892 Morgan Dollar Mintage and Specifications
Mintage: 1,036,000 (circulation), 1,245 (proof)
Mint Mark: none (Philadelphia)
Composition: 90% silver, 10% copper
Weight: 26.73 grams
Diameter: 38.1 mm



< 1891-S Morgan Dollar | 1892-CC Morgan Dollar >