The 1889-CC Morgan Dollar (Buy on eBay) is recognized as one of the key date coins of the series. The coin carries a premium across all grade levels and is considered a rarity in mint state.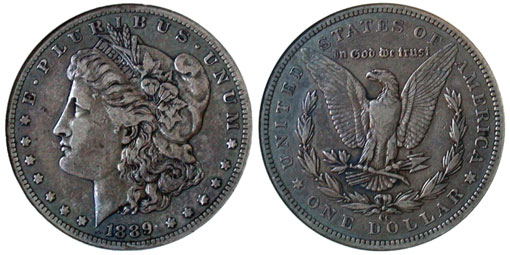 The Carson City Mint had struck Morgan Dollars for each year of the series from 1878 to 1885. At this point, further production was suspended due to the high costs. The facility would reopen in 1889, and 350,000 silver dollars were struck in the final quarter of the year. This figure already placed the coin among the lower mintage issues of the series, but the surviving population was substantially reduced when an estimated 250,000 to 325,000 pieces were melted. The remaining quantity was released and circulated heavily, leaving very few surviving examples for collectors.
When millions of Carson City Morgan Dollars were distributed during the GSA auctions of the 1970's, many previously rare dates were found in quantity. For example, the 1885-CC Morgan Dollar had a low mintage of 228,000, but the GSA Morgan Dollar Hoard contained more than half of the original mintage, assuring an ample supply for dealers and collectors. This was not the case for the 1889-CC Morgan Dollar, which was represented by only a single specimen found within the GSA hoard.
The finest known 1889-CC Morgan Dollar is graded MS68, a whopping three points above the next highest grade. This coin has changed hands at escalating prices, most recently selling for $881,250 in 2013.
1889-CC Morgan Dollar Mintage and Specifications
Mintage: 350,000
Mint mark: CC (Carson City)
Composition: 90% silver, 10% copper
Weight: 26.73 grams
Diameter: 38.1 mm



< 1889 Morgan Dollar | 1889-O Morgan Dollar >