Although the 1894-O Morgan Dollar (Buy on eBay) is relatively available in lower grades, it becomes scarce in mint state grades. Additionally, this issue is known for being poorly struck, heavily bag marked, and possessing below average luster, making the acquisition of an attractive higher grade example a challenge.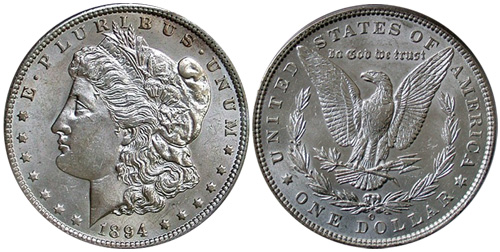 The original mintage for the issue was 1,723,000. Despite some bag quantities being paid out through the 1940's and 1950's, the generally poor appearance of the coins kept the interest levels from dealers and collectors low. Proof-Like and Deep Mirror Proof-Like examples are extremely rare, and the vast majority of these show low contrast and are excessively bag marked.
The finest known pieces are 16 which have been graded MS65 by either PCGS or NGC. Even the nicest of these specimens will still exhibit striking weakness on the highest points of the design. Examples graded PCGS MS65 have sold for more than $50,000.
1894-O Morgan Dollar Mintage and Specifications
Mintage: 1,723,000
Mint mark: O (New Orleans)
Composition: 90% silver, 10% copper
Weight: 26.73 grams
Diameter: 38.1 mm



< 1894 Morgan Dollar | 1894-S Morgan Dollar >