Although the 1901 Morgan Dollar (Buy on eBay) is plentiful in circulated grades and available in lower uncirculated grades, it becomes a major rarity at the gem level. Most of the original mintage of 6,962,000 was paid out into circulation, resulting in an abundance of circulated coins and very few surviving higher grade coins.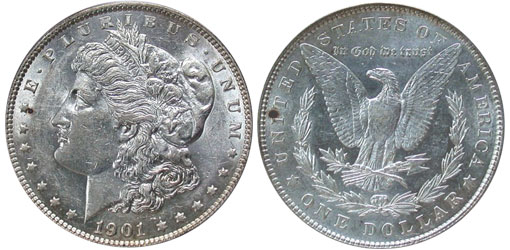 Only six coins have been graded MS65 by PCGS or NGC. One of the examples graded by NGC sold for $59,800 at an auction conducted in July 2002.
Authentication for this issue is recommended due to the potential for removed mint marks.
The 1901 Proof Morgan Dollar is a viable alternative to a circulation strike. The Philadelphia Mint produced 813 proof coins, however many more of these survive as compared to higher grade circulation strikes. Gem proof examples can be acquired for $5,000 to $7,000 depending on quality.
1901 Morgan Dollar Mintage and Specifications
Mintage: 6,962,000 (circulation), 813 (proof)
Mint Mark: none (Philadelphia)
Composition: 90% silver, 10% copper
Weight: 26.73 grams
Diameter: 38.1 mm



< 1900-S Morgan Dollar | 1901-O Morgan Dollar >