The 1898-S Morgan Dollar (Buy on eBay) had a mintage of 4,102,000 coins produced at the San Francisco Mint. The issue is more or less available across in circulated grades through MS64. For pieces graded gem and higher the availability drops and premiums expand.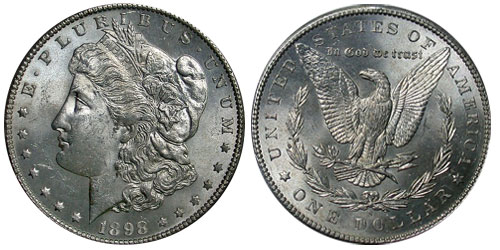 Pieces graded MS67 and higher rarely come to market. The single finest known example is graded MS68 by PCGS and sold for $37,375 at auction in January 2009.
One of the complexities of Morgan Silver Dollars series that makes it so interesting to study is the occurrence of both absolute rarities and conditional rarities. The former refers to coins that are rare at any grade level, while the latter refers to coins that are rare at a specific grade level. Adding to the intrigue, there are some coins with low mintages that are neither absolute nor conditional rarities due to the impacts of hoarding.
1898-S Morgan Dollar Mintage and Specifications
Mintage: 4,102,000
Mint Mark: S (San Francisco)
Composition: 90% silver, 10% copper
Weight: 26.73 grams
Diameter: 38.1 mm



< 1898-O Morgan Dollar | 1899 Morgan Dollar >