Once considered a great rarity of the series, the 1898-O Morgan Dollar (Buy on eBay) is now readily available at all grade levels including gem. In a situation similar to the 1903-O Morgan Dollar and 1904-O Morgan Dollar, this issue was scarcely encountered and elusive in mint state for a generation of collectors. This changed with the release from a Treasury vault in November 1962, which contained each of these rarities in large quantity. For present day collectors, an example graded MS65 can be acquired for less than $200.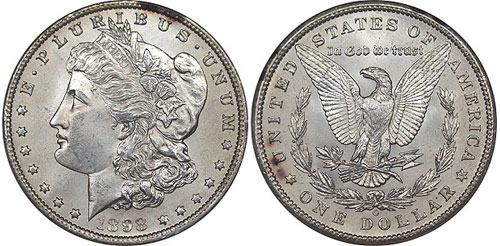 The mintage for the 1898-O was 4,440,000 pieces at the New Orleans Mint.
An exceptional piece graded PCGS MS68 with the Deep Mirror Proof-Like designation sold for $32,200 at an auction in January 2009.
1898-O Morgan Dollar Mintage and Specifications
Mintage: 4,440,000
Mint Mark: O (New Orleans)
Composition: 90% silver, 10% copper
Weight: 26.73 grams
Diameter: 38.1 mm



< 1898 Morgan Dollar | 1898-S Morgan Dollar >